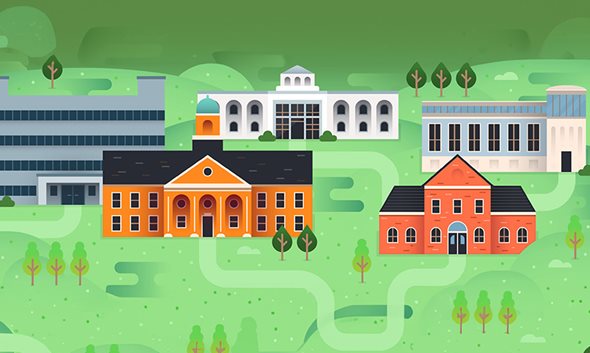 The Cost of College Life
Going to college incurs a lot of expenses you might not have thought about.
One of the many mysteries of college, especially freshman year, is what being there is actually going to cost. Sure, you know there's tuition. But how much will you need to make it through the first semester? The first year?
Here's what to plan for first: the start-up costs of being a college student.
Starting Out
Typical start-up costs include a lot of different things, but a good place to start is school supplies—consider the following:
Laptop or tablet
Textbooks
Class, lab, and studio fees
General school supplies like notebooks and pencils.
Consider these purchases if you're moving into a dorm or apartment for the first time:
Bedding and towels
Furniture such as a desk, bed, dresser, couch, or dining room table
Dishes, cutlery, pots, and pans
Small appliances like a blender or toaster
Groceries
You may have some things already, like a laptop or bedding. This can reduce the cost of pre-school shopping. It's always great to avoid buying something that you'll only need for a year or two. To help make the initial cost a little easier, it's wise to focus on the essentials first and then build up to the "nice to have" items as you go. That way you'll have enough to get started but won't be stuck with the bill for everything at once.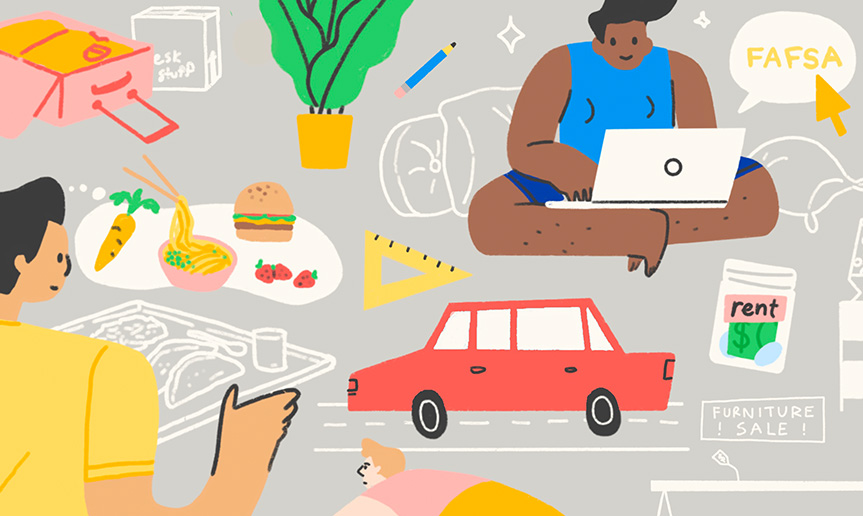 Coach
The Cost of College
Calculate the price tag and create an expense list for a year at college.
Everyday Costs
Heads up: You might be amazed at how fast cash can disappear if you've never lived on your own before. The sheer amount of things that you're suddenly responsible to pay for can be overwhelming. Making a budget will help you spend your money mindfully. Consider starting your budget by splitting your income into three sections: needs, wants, and savings.
A need includes the everyday or vital things that you need to survive like food, utilities, toiletries, and laundry. Your wants are the other things that can make your college life fun but can be cut in a pinch. Things like event tickets, eating out, and other entertainment options often fall in this category. Finally, it's wise to dedicate part of your budget to an emergency fund and long-term savings every month.
Being aware of what you're doing with your money can encourage you to save and help you get what you want out of the money you have available.
Illustration: Chelsea Miller
Coordinating with Roommates
Colleges often give new roommates each other's contact information before school starts. If you have the chance, be in touch and figure out how you can share expenses—and avoid duplicating efforts. That can help you avoid ending up with two mini-fridges and no coffee maker.
Messy Money Moments
You splurged and bought a new microwave for your dorm room. But when you show up with your stuff on the first day, turns out you're actually not allowed to have a microwave in your room. And, you didn't keep the receipt, so there's no way to return it and get your money back.
Receipts may seems like a waste of time—another scrap of paper in your pocket or another email clogging up your inbox. But it's important to keep all your receipts for new stuff until you're fully moved in and know what you'll really need. Otherwise, you've spent part of your precious budget on things you can't use.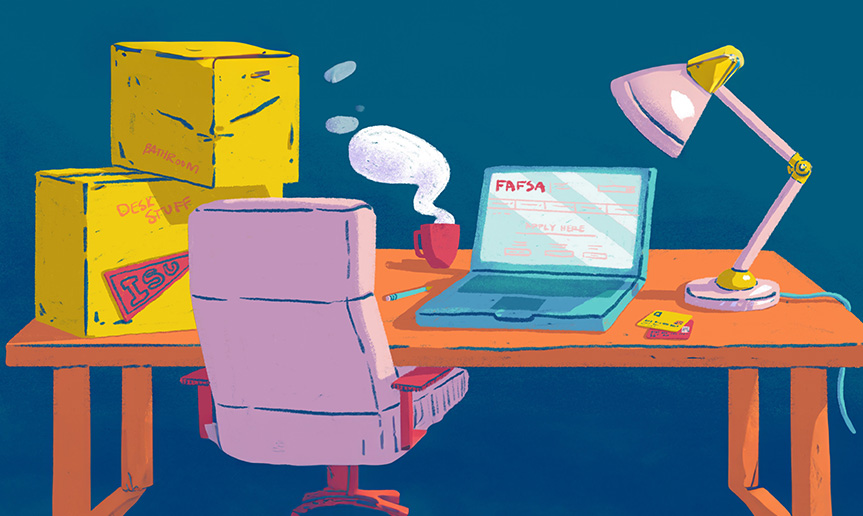 Coach
Filling Out the FAFSA
Make a plan for the FAFSA so that you don't leave money on the table.
Unavoidable Costs
Some costs are fixed by the contracts you sign—like your phone agreement or rent. It works in your favor that these costs are the same amount every month, because you can plan for them. But if you don't pay them in full, you'll eventually find yourself without a phone, or much worse, with no place to stay.
There are often ways to reduce fixed costs. For example, staying on your family's phone plan may be cheaper than having your own account, provided the service is good in both locations. Adding another roommate will reduce your rent (though it might be a little crowded).
Other costs are variable and change from month to month. You've got a little more flexibility with these costs—like food and clothing—since you can always cut back if you're running short of cash. One solid way to reduce costs is to get serious about sustainability. Refilling a water bottle is cheaper than buying bottled water and way better for the environment.
Being a college student often requires working on a tight budget, but thoughtful budgeting choices can make it much easier to cover your expenses and enjoy this unforgettable experience.
Disclaimer
While we hope you find this content useful, it is only intended to serve as a starting point. Your next step is to speak with a qualified, licensed professional who can provide advice tailored to your individual circumstances. Nothing in this article, nor in any associated resources, should be construed as financial or legal advice. Furthermore, while we have made good faith efforts to ensure that the information presented was correct as of the date the content was prepared, we are unable to guarantee that it remains accurate today.

Neither Banzai nor its sponsoring partners make any warranties or representations as to the accuracy, applicability, completeness, or suitability for any particular purpose of the information contained herein. Banzai and its sponsoring partners expressly disclaim any liability arising from the use or misuse of these materials and, by visiting this site, you agree to release Banzai and its sponsoring partners from any such liability. Do not rely upon the information provided in this content when making decisions regarding financial or legal matters without first consulting with a qualified, licensed professional.