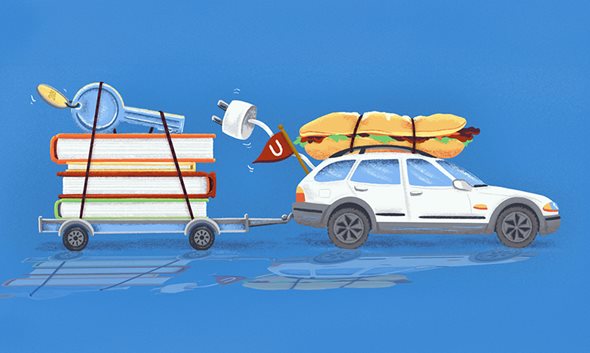 College Budget Breakdown
Make the first steps toward creating a college budget by learning specifics about fixed and variable expenses.
Most people ask, "How much does college cost?"—that's the first mistake. It's not to say this question isn't answerable, but grouping college into one huge expense can be a little deceiving.
The cost of a degree is so much more than a singular bill—especially if you factor in questions like where you'll be living, how you'll get from point A to point B, and how you'll satisfy your hunger for food and fun. Understanding and noticing how little things influence the final cost of college is extremely important.
Breaking down college expenses is the first step in creating an accurate and successful budget. Each collegiate expense can be put into the category of either fixed or variable. After some practice, it's easy enough to spot the difference:
Fixed Expenses are recurring costs that can rarely be changed, meaning you know what to expect when the bill comes around.
Variable Expenses are costs that fluctuate monthly in price. Since variable expenses change, it's important to stay flexible and track your expenses month-to-month. Let's take a look at some examples of fixed and variable expenses and how you can account for them in your budget.
Fixed Expenses
Housing
Rent is often the biggest fixed expense in a monthly budget. You sign a contract to pay, let's say $800 a month, and your landlord has no right to change that price—it's fixed (see where we're headed here?).
Tips:
Try to live in a place that's affordable and safe. If the rent is almost nothing but the crime rate is high it's probably not worth the trade-off. If you don't have enough money to pay for a nice place, living with roommates can be a great way to compensate for a lack of funds to support a nicer place. Another big help toward housing costs can actually come from your college. Work-study programs sometimes include options to help pay for room/board, so contact your school's financial aid office and get details on what options they have available.
Utilities
You'll find amenities like gas, water, and electricity are not always included in the monthly cost of rent. Meaning there will be an added amount for amenities of anywhere from $25 or more. For college students, this price is often fixed, but it could be a variable expense, meaning it changes in price each month.
Tuition
The cost of tuition depends entirely on where you want to go. For example, out-of-state tuition can be double the price of in-state tuition, meaning you're paying double for your education. Out-of-state tuition for public universities averages to be roughly $26,427 while in-state tuition is $9,308. Private schools will almost always be more expensive, increasing to an average of $32,410 per year. Depending on the state, you could potentially live in the state for some time, become a resident, and avoid paying out-of-state tuition costs.
Tips:
Paying for tuition can be a challenge. Ideally, you would be able to cover the majority of this cost through scholarships or financial aid (such as the FAFSA). There are thousands of unclaimed scholarships out there just waiting for someone to apply for them. If those sources won't be enough, you'll likely need to take out student loans. Loans will give you the money you need right away, but it comes with a larger cost later. Use loans cautiously and only if absolutely necessary.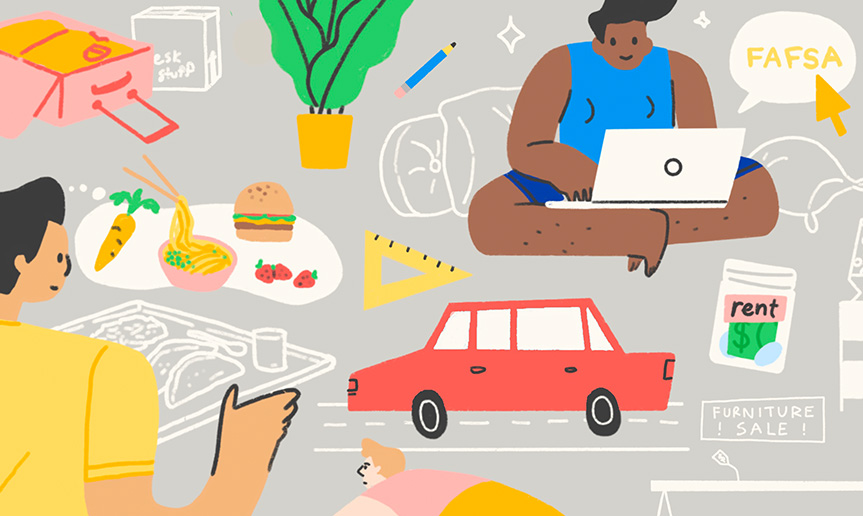 Coach
The Cost of College
Calculate the price tag and create an expense list for a year at college.
Transportation: Bus, Car, Gas
General maintenance fees for a car alone could be enough to convince you to consider using public transportation. Some colleges provide either a discount or free bus passes so you can ride the bus. If you choose to drive yourself, don't forget about parking fees. These could range anywhere from $40 to $2,500 per semester depending on what college you're attending. That's not even the cost of a year!
Illustration: Chelsea Miller
Variable Expenses
Books/Study Materials
Don't forget, it doesn't just cost money to go to class. More often than not, the study materials aren't provided in the overall cost of tuition. Though it might be exciting to buy all of your college books at once, fresh out of the packaging, sometimes it's best to wait until after the first day of class to decide how to go about buying your textbooks. Some professors will tell you the textbooks listed for the class aren't mandatory, or they might also provide pdf versions for you.
Tips:
It's also a good idea to check and see if they provide any of your textbooks in the school library. If you enjoy doing your homework at the library, odds are it won't be too much of a hassle to rent it out when you need it.
Food
Everyone needs to eat! Though it might be tempting to eat out at restaurants every day, remember, most cheap fast food restaurants cost an average of $5-$10 per meal. Eating out once a day adds up to roughly $150-$300 dollars a month which is the same average cost for a full month of groceries that will feed you three times a day.
Tips:
Some schools will also offer meal plans that allow you to eat a certain amount of meals at a cafeteria or give you a reloadable charge card to use on campus. While this may be convenient, you should be careful to ensure you aren't spending more on the meal plan than you would otherwise.
Personal Care
This is anything from bathroom supplies to clothes. When it comes to hygiene products, sometimes buying in bulk can save you a lot of money. But if that's not an option, you can reduce this expense by purchasing products on sale or using coupons.
Entertainment
Yes—entertainment. Everyone needs to save a little money for themselves, there's no shame in it. Typically, entertainment shouldn't be more than 10% of your income—that's the safest way to make sure you're not overspending.
What this all comes down to…
Ultimately budgeting is the best way to prepare for the cost of independent college living. Understand the expenses and know what sort of income you'll need in order to successfully support yourself.
Disclaimer
While we hope you find this content useful, it is only intended to serve as a starting point. Your next step is to speak with a qualified, licensed professional who can provide advice tailored to your individual circumstances. Nothing in this article, nor in any associated resources, should be construed as financial or legal advice. Furthermore, while we have made good faith efforts to ensure that the information presented was correct as of the date the content was prepared, we are unable to guarantee that it remains accurate today.

Neither Banzai nor its sponsoring partners make any warranties or representations as to the accuracy, applicability, completeness, or suitability for any particular purpose of the information contained herein. Banzai and its sponsoring partners expressly disclaim any liability arising from the use or misuse of these materials and, by visiting this site, you agree to release Banzai and its sponsoring partners from any such liability. Do not rely upon the information provided in this content when making decisions regarding financial or legal matters without first consulting with a qualified, licensed professional.