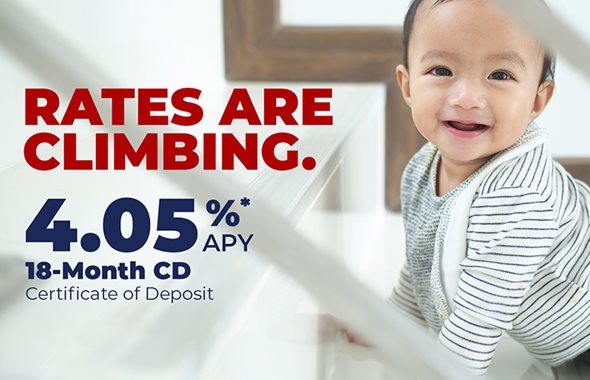 Give Your Savings a Boost
Great CD rates include our 18-Month Certificate of Deposit at 4.05%* APY with a minimum opening deposit of $1,000.
Rates are Climbing
AmeriServ offers a more customer-focused approach to banking. One that's based on your life, your finances, and what's important to you. Visit us today and open a new CD with a great rate.
A certificate of deposit (CD) is a product that provides an interest rate premium in exchange for your agreement to leave a lump-sum deposit untouched for a predetermined period of time.
FAQs
Yes. The FDIC covers accounts up to $250,000 in deposits per account owner / ownership category at each insured bank.
Yes. Penalties vary based on term. Please contact us for full details.
Yes. a CD can be owned by individuals (separately or jointly), organizations, and businesses.
* Annual percentage yields (APY) shown are offered on accounts accepted at AmeriServ Financial and are accurate as of 1-17-23. Minimum opening deposit of $1,000. Interest rate will be compounded and credited to your account every 18 months. If you close your account before interest is credited, you will receive the accrued interest. Annual Percentage Yield (APY) assumes interest remains on deposit until maturity. Withdrawal will reduce earnings. A penalty will be imposed if withdrawal is made before the maturity date. The account will automatically renew at maturity. You will have 7 days after the maturity date to withdraw the funds without penalty. Fees may reduce earnings on the account. Offer may be changed or withdrawn without notice.