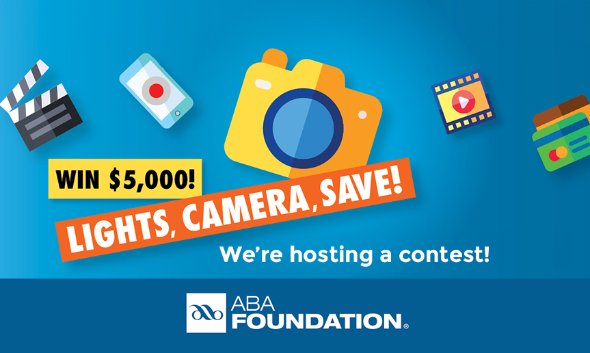 Lights, Camera, Save
This video contest is a call for teens to use their imagination to educate themselves and their peers about the value of building sound financial habits before adulthood.
Lights, Camera, Save! Video Contest
If you're between the ages of 13 and 18 and ready to put your creativity to the test, then this video contest is for you. Send a 30-second video to AmeriServ about ways to be financially responsible, along with your contestant entry form, and you're on your way.
Three national prizes are up for grabs, with a grand prize of $5,000! Winning videos will be posted on YouTube and shared nationwide to help spread the importance of financial skills for teens.
How it Works
Download the Contestant Submission Packet ("Packet").
Create your video following the guidelines and Official 2023 Rules found in the Packet.
Upload your video to YouTube.
Complete the entry form and signature page found in the Packet.
Submit your completed Packet using the form at the bottom of this page, or by mailing the Packet to AmeriServ Marketing, 216 Franklin Street, Johnstown, PA 15901
In addition to the official rules outlined in the document below, a participant submitting their entry to AmeriServ must be a resident of either Pennsylvania or Maryland.
The AmeriServ marketing team will select one video from Pennsylvania and one video from Maryland to be entered into the ABA Foundation's Lights, Camera, Save! national contest.
AmeriServ has also chosen to present a First ($500), Second ($250), and Third ($100) place prize in the form of a Visa® gift card to our top three favorite videos overall (Pennsylvania and Maryland combined).
Submit Your Entry Below
Only one submission per person. Good luck contestants!